9-22-16
I wrote this article for exclusive publication on Seeking Alpha on 10-29-15 and it was intended for investors.  I based my prediction of increased oil prices on reputable oil industry insiders, but oil prices did not increase as I expected, but instead declined as predicted by Art Berman, who is cited below.  This article provides some details about the history of the petrodollar and its relationship to the inability of the US to redeem dollars for gold in the early 1970s.  It also looks forward to the impact of Russia on affairs in the Middle East.  I hope readers find some value in it.
First published 10-29-15
Summary
It's not the risks posed by oil price fundamentals that'll get you, it's the demise of the petrodollar.
On September 30, 2015, Russia inaugurated a new geopolitical reality.
The major non-US oil producers have every reason to collaborate on a price rise, and sooner rather than later.
The demise of the petrodollar reflects a global geopolitical shift and the genesis of a successor to the Bretton Woods world monetary system that came to an end under Nixon in 1971. These changes transcend concerns about the fundamentals of oil market pricing and constitute a risk that investors must take into account in trading any aspect of the world oil markets.
In his speech on September 28, 2015 at the UN Vladimir Putin implied that major geopolitical changes are upon us :
However, it's not about Russia's ambitions, dear colleagues, but about the recognition of the fact that we can no longer tolerate the current state of affairs in the world. [emphasis added]

     SOURCE: Washington Post
The key geopolitical financial arrangement underlying Russia's concerns is the petrodollar oil pricing scheme, inaugurated in 1973 by the US and Saudi Arabia (SA) and with the rest of OPEC in 1975. This scheme followed the US refusal in 1971 under Nixon to redeem US dollars for gold. The agreement called for the sale of SA oil only in US dollars in return for investment in western institutions of oil export sales proceeds not necessary for domestic consumption. The Carter Doctrine was proclaimed in 1980 closing whatever loops remained open: the US would provide security for Persian Gulf nations as a matter of US national security. US Treasury paper and a broad spectrum of securities as well as weapons purchases found ready buyers. A veritable military-industrial-congressional-complex dream come true: the petrodollar scheme created a global demand for dollars, fostered a ready market for US debt and securities and freed the US to print paper at will.
MANAGING THE RISK OF THE DEMISE OF THE PETRODOLLAR
The lure of the fundamental case
Oil prices
have been falling
for over a year from $90+ per barrel to under $50. The conventional analysis of oil prices, such as
Moody's
and
Barclays
is that prices will not exceed $65 in 2017.
Art Berman
consistently argues that oil prices must stay low and go even lower.
This is based primarily on the following:
SA has sufficient central bank reserves and a large enough sovereign wealth fund so that it can maintain production at current prices in an effort to damage the US shale oil industry as well as Russia.
Low global economic growth will hold down demand for oil.
The implementation of the nuclear weapons accord with Iran will lead to the lifting of sanctions and headlines suggest Iran will flood the market with oil.
World oil supply exceeds demand such that it will be several years before demand rises sufficiently to force a rise in prices.
There are people who disagree with the idea that oil prices will stay low for years, among whom are David Demshur, CEO of Core Labs (NYSE:CLB) and Steve Kopits of Princeton Energy Advisors. Their views are based on fundamental factors like depletion rates, declining US production, lower than reported inventories and increased demand. Demshur believes US oil production will fall from 9.5mbd in 2015 to under 8.5 mbd in 2016 because there will be a decline of 50k-100k barrels per month starting in 2H 2015 and WTI will be between $70 and $80 by the end of 2015. (See Demshur here also.) Kopits believes that world inventories are not as high as reported and China's consumption is rising.
THE WORLD ORDER OF THE 1970s IS NO LONGER RELEVANT, BUT THE BAND PLAYS ON
The world financial and geopolitical alignments of the 1970s have been left far behind. We can quantify developments today that require a reassessment of assumptions that may be driving our investment decisions.
All the premises of the petrodollar world financial and security arrangements have been superseded:
1. China has reemerged as a leading world economy.
2. The BRICS nations have established SWIFT alternatives, a foreign exchange reserve pool, a development bank, Eurasian security/cooperation organizations, economic trading blocks and high-speed rail linkages across pan-Asia that will link as well to Europe.
3. As of September 30, 2015 the Carter Doctrine Persian Gulf security system assurances have been shattered by Russia's military action in Syria.
4. The US has ceased generating wealth:  [see Deflation in the Casino]
5. Oil exporting nations now fail to generate recyclable petrodollars.
The success of the petrodollar oil pricing scheme depends on recycling of proceeds not needed for domestic use by the producing country. This scheme succeeded for a long time, but it looks like there is now a shortfall of at least $500 billion per year without a rise in oil prices: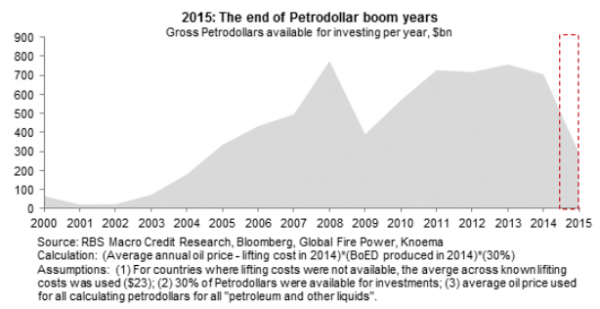 Source: RBS Macro Credit Research, Bloomberg, Global Fire Power, Knoema
If sovereign wealth funds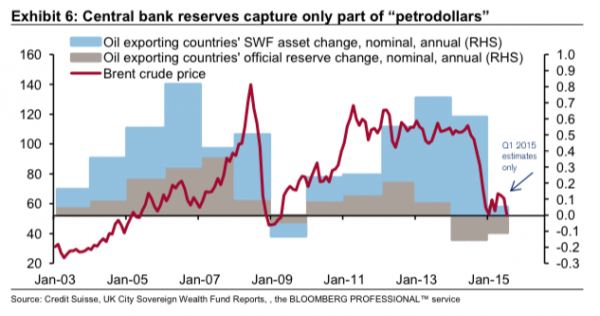 are added to central bank reserves the
estimate for the amount at stake referred to above could be as much as $2.5 trillion.
Source: Credit Suisse, UK City Sovereign Wealth Fund Reports, the BLOOMBERG PROFESSIONAL service
The IMF report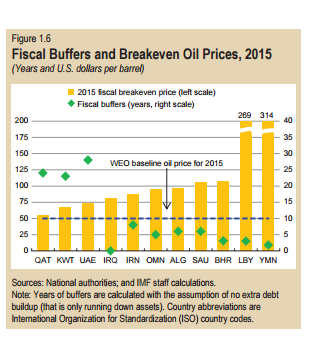 (p. 25) of October 15, 2015 estimates most oil exporters have insufficient reserves at present oil prices to cover domestic fiscal demand more than a few years and their breakeven price for fiscal balance is much higher than at present.
Zerohedge reports the ability of the Saudis to continue purchasing US debt securities has diminished greatly:
Even if you'd assume Saudi Arabia would be able to raise $30B per year in government debt, it still has a $120B gap to cover and the only decent solution would be to start selling US debt. This could put additional pressure on the financial markets as it won't be easy to absorb this kind of selling.
And then there's another global debt berg: Christine Hughes of Otterwood Capital reported that global borrowing of $US 9+ trillion must be paid back by borrowers who contract business in their own currencies. Lower global economic growth diminishes borrowers' income and they must pay back their borrowings in increasingly more expensive $US. It's the bonfire of the margin clerks! As the US$ rises with this increased demand US exporters bear the additional burden of a higher currency.
FACTORS MILITATING TOWARD HIGHER OIL PRICES SOON
1. WORLD OIL SUPPLY & DEMAND
Except for US shale oil production, world oil supply was barely keeping up with demand. Shale oil production declines at a rate of 70% the first year and declines significantly for several years thereafter. Continued new drilling is necessary year after year as Berman and Demshur point out. It appears that with put options entered into in 2014 rolling off now the only wind at the back of the shale oil industry is low interest rates.
2. SAUDI ARABIAN HEADACHES
Saudi Arabia and other export countries appear to have diminishing financial endurance to maintain maximum production at present prices, as detailed above. SA produces almost nothing but oil, so unlike Russia, which is far more diversified, it has nothing to fall back on that can sustain it.
Saudi princes want regime change:
A senior member of Saudi Arabia's royal family has circulated a letter expressing fear that the monarchy may collapse unless the king is urgently replaced and the position of deputy crown prince scrapped, Middle East Eye can reveal.

On 4 September, a grandson of the late King Abdulaziz Ibn Saud wrote a four-page letter calling on the royal family to hold an emergency meeting to address concerns that the House of Saud may be losing its grip on power.

"We [have] got closer and closer to the fall of the state and the loss of power," the letter read.

. . .

It argues the need to bring back older members of the Saud dynasty by criticising "totally miscalculated" military decisions in Yemen, Syria and Iraq, claiming that these choices have "weakened the trust of our people and [incited] other peoples against us".

. . .

The scale of the country's problems – both militarily and financially – led to the grandson of the country's founder writing that change at the top may be necessary to protect al-Saud's future as rulers.

"We will not be able to stop the draining of money, the political adolescence, and the military risks unless we change the methods of decision making, even if that implied changing the king himself," the letter read.

SOURCE: Middle East Eye
The letters in Arabic calling for the overthrow of the king have been read more than 2m times. The letters call on the 13 surviving sons of Ibn Saud – specifically the princes Talal, Turki and Ahmed bin Abdulaziz – to unite and remove the leadership in a palace coup, before choosing a new government from within the royal family.

. . .

The prince behind the letters claims to have received widespread support from both within the royal family and society at large.
3. Can the US protect the Persian Gulf nations pursuant to the Carter Doctrine? On September 28, 2015, the day of Putin's speech at the UN (remember: ". . .we can no longer tolerate the current state of affairs in the world.") NATO's top commander Gen. Philip Breedlove addressed the NATO dimension of this issue:
"Anti-access/area denial, or A2/AD, is a growing problem," Gen. Breedlove told the German Marshall Fund this afternoon, speaking just hours before Putin's teeth-clenched meeting with President Obama on the sidelines of the UN General Assembly.
"Kaliningrad is a large platform for A2/AD capability," Breedlove said. His subordinates Gen. Frank Gorenc and Lt. Gen. Ben Hodges have warned that Kaliningrad-based missiles reach well into Polish airspace and could shut down NATO reinforcements to the Baltics in a crisis.

"[Since] their occupation of Crimea, Russia has developed a very strong A2/AD capability in the Black Sea," Breedlove said. "Essentially, their [anti-ship] cruise missiles range the entire Black Sea, and their air defense missiles range about 40 to 50 percent of the Black Sea."

. . ."As we see these very capable air defense [systems] beginning to show up in Syria, we're a little worried about another A2/AD bubble being created in the Eastern Mediterranean," Breedlove said. [emphasis added]
This talk was two days before the Russian air strikes in Syria and ten days before the Russian cruise missle strikes on Syria were launched from the Caspian Sea. The Persian Gulf used to be an American lake, but it appears this is no longer a no-brainer. It will be interesting to see if the US brings a carrier back to the Gulf- "The Pentagon has a formal military requirement to keep at least one carrier in the gulf region at all times"– this winter.
4. Iran is unlikely to flood the world with oil nor will it work directly against Russia interests, being Iran's most critical ally.
Iran's Petroleum Minister addressed the first issue:
While Iran's Petroleum Minister Bijan Zangeneh and the Russian counterpart, Alexander Novak, are discussing ways to strengthen bilateral cooperation, Iran confirmed its resolve to cooperate also with other countries, explaining that the next summit of the Gas Exporting Countries Forum will take place in Teheran on November 23.

"Russians know how to do business in Iran and we hope the visit will bear positive results," Deputy Petroleum Minister for Commerce and International Affairs Amir-Hossein Zamaninia told Shana, the news agency linked to the Oil Ministry.

Zamaninia spoke mainly about oil, saying it aims at restoring balance in the market at 70 to 80 dollars per barrel, working together with OPEC countries.[emphasis added]

SOURCE: Natural Gas Europe
In addition, Iran has an excess of condensate that it is struggling to sell, according to Jeffrey Brown in an interview with Chris Martenson:
Well, if you look at liquids production, I think a critical issue is to separate crude oil from crude condensate, natural gas liquids and biofuels. …

But, the crucial issue, I think, to understand about what has happened after 2005 is that . . . .actual crude oil production has basically flatlined while the liquids associated with natural gas production-condensate and natural gas liquids-have continued to increase. . .

. . .

Reuters had in their article earlier this year where refiners are actually rejecting what they call these "dumbbell crudes." . . .So, refiners are basically increasingly rejecting condensate, 50% condensate, 50% heavy crude volumes.

. . .

There are widespread reports that Iran's got tens of millions of barrels in oil flooding offshore, but it turns out that the bulk of that is reportedly condensate, and they're actually having difficulties getting rid of it. [emphasis added]

SOURCE: PeakProsperity
This understanding of what Iran has to sell the world is reiterated here:
Traders and company officials say Iran has little choice but to target China to buy the crude known as condensate . . .However, China as well may not be keen on taking more condensate.. . .

The National Iranian Oil Company (NIOC) has stored some 40 million to 50 million barrels of oil onboard ships…

. . .Iranian officials said last week the oil in floating storage is either fuel oil or condensate, with the latter accounting for around 30 million of the barrels.[emphasis added]

SOURCE: Reuters
With regard to Iran's Russian ally, Iran has applied for membership in the Shanghai Cooperative Organization and will probably be admitted as a full member in 2016 now that the nuclear weapons deal has been finalized. It has also plans to join the BRICS New Development Bank. Russia's support was crucial to Iran in making the weapons deal so it's barely conceivable that Iran will betray Russia as it resumes its role as an unsanctioned major global energy seller. The ties between the two countries continue to grow, such as in banking.
5. OPEC and other energy exporters need higher prices as detailed above. The next OPEC meeting will be December 4, 2015 in Vienna and the financial pain for the exporters has only increased since Dalan McEndree wrote this on August 20, 2015:
The December 2015 OPEC Meeting

. . . it is possible, perhaps even likely, the Saudis will face an OPEC outsider revolt at the December 4 OPEC meeting.

The Saudis and their Gulf Arab allies would seem to have three possible approaches, should a revolt occur:

Reconciliation, as Saudi Arabia acquiesces in the wishes of OPEC's weaker members to bring price increases forward through OPEC production cuts, Saudi Arabia bearing the brunt;

Separation, as the Saudis and their Gulf Arab allies ignore their fellow members' entreaties and force them to wait for "market" forces to balance supply and demand; or

Divorce, as the Saudis and their Gulf Arab allies decide to exploit their financial wealth and go their own way, therefore forcing their fellow OPEC members, unable to finance their domestic oil industries, unwillingly to bear the brunt of global production cuts.

SOURCE: OILPRICE.com
6. EU energy demand will most likely be met by Russia in one way or another. Continued sanctions against Russia are problematic.
The IAE GAS 2015 Midterm Market Report summary held:
Against this backdrop, Europe's gas import dependency will continue to increase. … By 2020, OECD Europe gas production is expected to stand 25% below its 2010 level. . . . European gas import requirements are set to increase by almost one-third between 2014 and 2020. . . . Russian gas is not set to be meaningfully displaced. [emphasis added]
The EU's energy needs appear to be inelastic, so it will be very interested in seeing established some semblance of stability in energy markets. The Nord Stream II deal seems to confirm this, but it isn't clear the Western partners are able to follow through. This also means the EU will be looking to find a way to end the sanctions it imposed against its own trade with Russia which are a very serious burden on European trade as well as on Russia's.
7. There will be major future demand for commodities by the Eurasian market as China's One Belt One Road/Silk Road projects get up to speed. The amounts involved are eye catching (see here, here and here) and explain why England was amongst the founding members of the Asia Infrastructure Investment Bank. These projects tying Eurasia together with Europe are China and Russia's approach to Great Game geopolitics. The ramifications for energy demand in Eurasia are obvious.
THE FACTORS CITED ABOVE ARE NOW NEAR TERM ENERGY INVESTMENT RISKS
BACK TO THE FUTURE
The current crisis began on September 30, 2015.
Martin Armstrong of Armstrong Economics is either very smart, very lucky or both when his prediction of a major move in his economic confidence model called for a massive change on September 30 or October 1, 2015:
The unleashing of Russian firepower in Syria in support of the Syrian government came precisely on the day of the Economic Confidence Model. I have come to learn from observing this model that major world events, whatever the major focus may be, appear to line up with the ECM.
The recent financialization of global markets traces its roots back to 1971 with the flow of petrodollars in the post-Bretton Woods world following the inability of the US to honor its commitment to redeem gold at $35/oz., described by Benjamin Cohen in the article linked in the summary at the top of page one above:
The Bretton Woods system had come to rely on U.S. deficits to avert a world liquidity shortage. . . . The resulting erosion of America's net reserve position was bound in time to undermine confidence in the dollar's continued covertibility. In effect, therefore, states found themselves caught on the horns of a dilemma. . . the *Triffin dilemma.To forestall speculation against the dollar, U.S. deficits would have to cease. But this would confront the system with a liquidity problem. To forestall the liquidity problem, U.S. deficits would have to continue. [emphasis added]
US Treasury Secretary John Connally is reported to have said just before Nixon closed the gold window: "the dollar is our currency but your problem." (Wikipedia)
A generation has passed since gold acted as a brake on the printing of fiat currency. The US liquidity/gold problem cited above was solved in 1971 when the US refused to redeem gold at any price, the petrodollar scheme was launched in 1973 and the US formalized the protection racket called the Carter Doctrine in 1980. The actions taken beginning in 1971 presaged what may now be the end of the American century that began around 1898 with the
Spanish-American War
under McKinley.  The pace of the petrodollar demise runs neck and neck with the need to address global financial fiscal problems of not only the oil exporting nations but also with the need to relieve the borrowers of US $9 trillion in debt who trade in currencies falling against the US dollar.  A higher oil price and a lower US dollar versus other currencies would help address these problems.
Russia has incentives and the means to lead such a course:
it has the demonstrated military capacity
the leverage of a major oil/gas producer
a growing number of allies and fellow travelers (Iran, Iraq, Syria, and now Jordan) in the Middle East two of which are also oil exporters
a suite of BRICS financial institutions that form a nucleus for a new world trading order
the fear of terrorism spreading into the Caucasus and Central Asian regions abutting its borders
it is in a recession due to western trade sanctions accompanied by economic blowback on the sanctioning countries
Russia now seeks to eliminate the $US as the world trade currency
The Saudis also have the incentive to address a number of very serious problems:
The princes perceive there is sand in the gears of their kingdom
Saudi finances deteriorate by the day
The US Persian Gulf security shield is under challenge
The end of sanctions on Iran are near pursuant to the nuclear weapons deal
Under the circumstances, it should not come as a great surprise that the Saudis are finding reasons to talk to the Russians:
On 11 October, a meeting between Saudi Defence Minister Prince Salman and Vladimir Putin took place for the second time in 4 months, this time in Sochi.

. . .

Another indication suggesting a shift away from Washington appeared three days after the Sochi talks between Putin and Prince Salman.  Alexander Novak, the Russian Energy Minister, announced that a November meeting to discuss the global oil market with Saudi and Iranian representatives is being planned.

"The meeting together with Saudi Arabia and Iran will take place in November," according to Novak.

. . .

These Saudi and Arab OPEC-country overtures, toward Russia and potentially also Iran, open the possibility for their participation in the largest global infrastructure project, namely China's "One Belt, One Road" initiative for Eurasia, in which the Russian Federation and Eurasian Economic Union member states (Armenia, Belarus, Kazakhstan, Kyrgyzstan, Russia) are already fully integrated.[emphasis added]

SOURCE: Russian Insider
There are enough countries with sufficient fundamental national interests tied intimately to the price of oil and burdened by and enmeshed in the highly debt-laden global currency system, which is the legacy of the petrodollar and US domination, which have the incentive to do the unthinkable:
raise the price of oil soon (December 4?)
accept currencies other than the US dollar for oil
signal their intention to cease subordinating their vital interests to those of the US out of fear of US military and financial power
make common cause with their enemies
THE PETRODOLLAR COMPLEX STRIKES BACK
Parallel to all these developments are the negotiations to conclude a series of trade deals, e.g., the TTP, TTIT, TISA, AEC and the RCEP. Pepe Escobar on OEN addresses all but TTIT and TISA here. Eric Zuesse describes TTP and TTIT as assaults on national sovereignty:
These 'trade' deals are set up, far more fundamentally, to transfer the power over the decisions concerning such matters, away from democratically accountable national governments, to, instead, panels of 'arbitrators' consisting of three lawyers, each one of whom is appointed by international corporations . . .

The system in these 'trade' deals does not allow nations to sue international corporations, but it does allow international corporations to sue any signatory nation . . . that has applied or instituted a standard higher than the international treaty allows.

. . .

. . .what's really at issue here is a transfer from national democratic sovereignty to, instead, international-corporate sovereignty, in which international corporations will have locked-in an international dictatorial control over a large portion of what it is that national governments do, and necessarily must do, in order to serve the public good. [emphasis added]

SOURCE: RINF
The petrodollar complex seeks to secure its future by subordinating national sovereignty to global corporate capital. Remember what Putin said at the UN:
However, it's not about Russia's ambitions, dear colleagues, but about the recognition of the fact that we can no longer tolerate the current state of affairs in the world.
This statement was largely in the context of adhering to the UN Charter and respecting the sovereignty of nations:
What is the state sovereignty, after all, that has been mentioned by our colleagues here? It is basically about freedom and the right to choose freely one's own future for every person, nation and state. . . .

. . . We are all different, and we should respect that. No one has to conform to a single development model that someone has once and for all recognized as the only right one. [emphasis added]

SOURCE: Washington Post
The risk of a steep rise in oil prices in the near term is rising. There is, however, another risk that can't be measured: the petrodollar complex may leave with a bang and not with a whimper.